SC JOHNSON
Drano Shoppers Activation
SC Johnson is an American company owning some well-established household brands such as Glade, Duck WC, Raid and many, many more. The clog-busting brand Drano also belongs to their portfolio. In order to boost the Drano sales before Christmas, I was asked to develop an impactful activation that would get noticed and bring people to the stores. The idea started with an ugly truth, showing faces of people disgusted by the consequences of a clogged drain. No-one wants to see these looks inside their homes for Christmas! 400 digital OOH screens broadcasted the campaign in Cologne city center, with QR-codes leading to discounts in the nearby drugstores. In stores, the message was repeated on several touchpoints, such as displays and shelves stoppers, successfully leading customers to put Drano bottles in their grocery baskets.
SC Johnson est une société américaine possédant des marques bien établies dans les foyers telles que Glade, Canard WC, Raid et bien d'autres. La marque Drano, un produit chimique qui débouche les canalisations, fait également partie de leur portefeuille. Afin d'augmenter les ventes de Drano avant Noël, on m'avait demandé de développer une campagne percutante qui se ferait remarquer e

t attirerait la clientèle
en magasins. L'idée, sensée faire réagir le public, montrait des visages de personnes dégoûtées par les conséquences d'une canalisation bouch

ée:

personne n'en veut,

surtout

 pour Noël ! Ma campagne a été diffusée dans le centre ville de Cologne sur 400 écrans numériques, tous ayants des QR-codes offrant des réductions dans les supermarchés des alentours. En magasins, le message était répété plusieurs fois, augmentant ainsi les chances pour que les clients mettent des bouteilles de Drano dans leurs paniers de courses. 
Role:
 Conception, Art Direction & Production.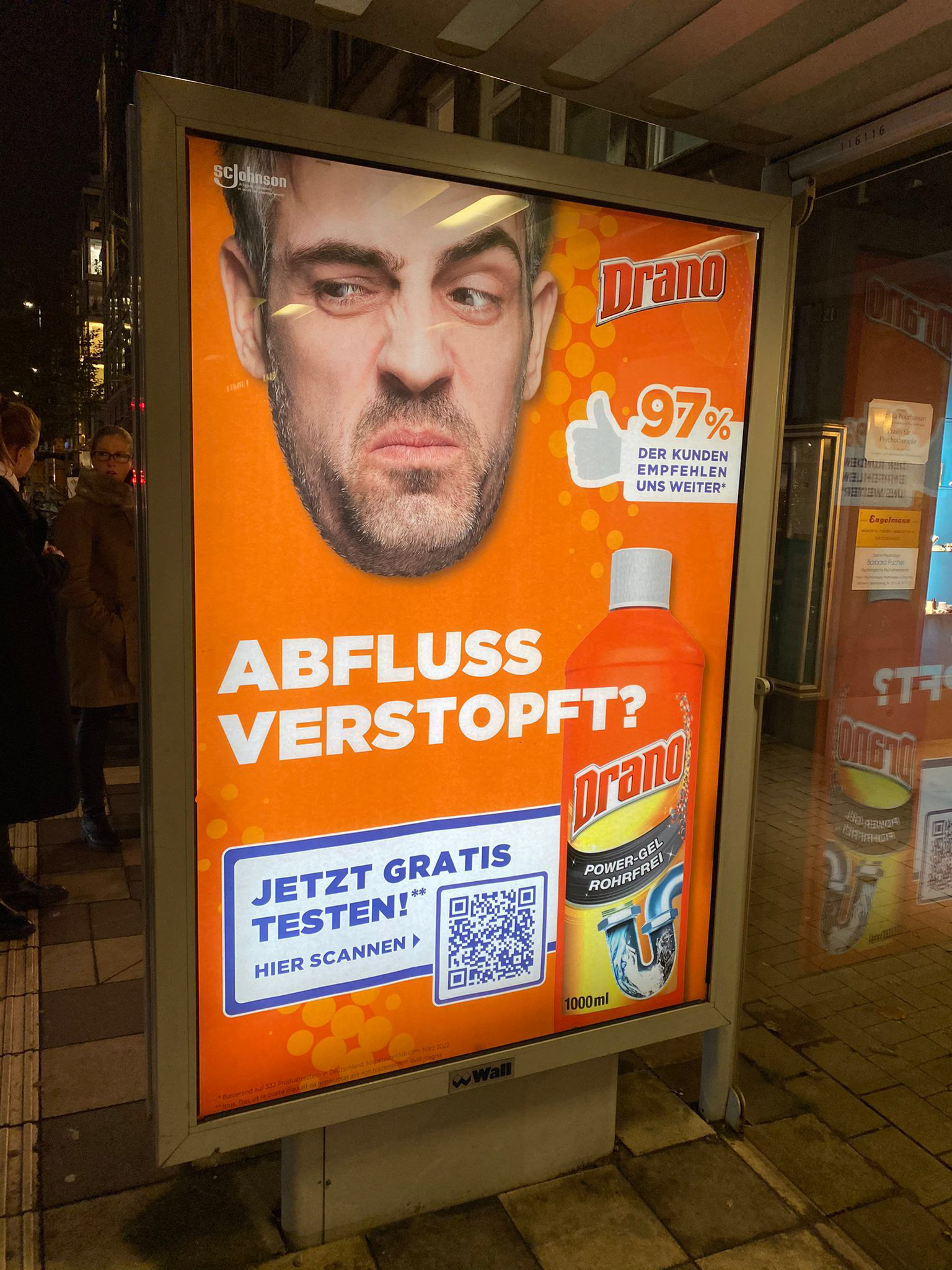 WC-Ente Shoppers Activation
"Wir lassen Sie nicht hängen" Cinema Guerilla Takeover
Duck WC, another well-known brand from SC Johnson, had recently launched Fresh Discs seals and wanted to increase their sales of this new product. Our activation had to be original and noticeable. So we surprisingly took over the women restrooms in 3 cinemas in Düsseldorf area over a period of 4 weeks during the busy Christmas holidays and freshen them up! In addition to the Duck WC product-seals, stickers and posters were placed everywhere in the toilets, with QR-codes to scan to benefit from a discount upon purchase. The pun-headline "We won't let you hanging" criticized the traditional shape of the category products and emphasized on the efficiency of the new seal-technology. This Guerrilla takeover proved to be a success as the SC Johnson Team decided to reiterated the action with Glade Touch & Fresh during the Easter period.
Canard WC, une autre marque bien connue de SC Johnson, avait récemment lancé un nouveau produit appelé " Fresh Discs " et souhaitait en faire augmenter les ventes. Notre activation, bien que locale, devait être mémorable! Nous avons donc pris possession des toilettes pour dames dans 3 cinémas de Düsseldorf sur une période très fréquentée de 4 semaines pendant les vacances de Noël et les avons rafraîchies ! En plus du produit dans chaque cuvette, des affiches et des autocollants ont été placés un peu partout dans les toilettes, tous avec des QR-codes à scanner pour bénéficier d'une remise immédiate à l'achat. La phrase-titre était un jeu de mots critiquant la forme traditionnelle des produits de cette catégorie, une cage pleine de bactéries, et soulignant l'efficacité de la nouvelle technologie développée par Canard WC. Cette Guerrilla s'est avérée être un succès puisque l'équipe de SC Johnson décida de renouveler l'expérience pendant la période de Pâques avec Glade Touch & Fresh.
Role:
 Conception, Art Direction & Production.
Commerce and Wellness Activation
Following the internal success of the Duck WC Fresh Discs Activation in cinemas, the SC Johnson team decided to re-conduct the experi
ment for Glade Aromatherapy products in 14 of the luxurious Holmes Place Wellness clubs in Germany. I produced a range of elegant communication assets placed strategically in the spas, offering the possibility to club members to take for free products to try at home: once convinced of the relaxing effect of their Glade wellness experience at home they would become regular customers.
Suite au succès de l'activation Canard WC Fresh Discs dans les cinémas, l'équipe d'SC Johnson a décidé de refaire l'expérience avec les produits Glade Aromatherapy dans 14 luxueux Holmes Place Wellness clubs d'Allemagne. Pour cela, j'ai réalisé une gamme de supports de communication élégants, placés stratégiquement dans le spas, offrant à tous les membres du clubs la possibilité d'emporter et d'essayer gratuitement chez eux les produits Glade Aromatherapy: une fois convaincus des bien-faits de l'expérience " bien-être",

la clientèle se fidélise.
Role:
 Conception, Art Direction & Production.
"Give a Quack" Point of Sale
Always aiming to attract new customers, SC Johnson regularly launched new products or fragrances on the market. The latest for Duck WC was a parallel line of toilet gels with bottles made of 50% recycled ocean plastics and using a more eco-friendly formula. Thereby entering the green marketshares, this was also a brand-statement following the need to fight climate-change. Using the codes and tone of voice of pro-planet activists, my "Give a Quack" campaign was meant to be provocative and loud, encouraging people to take action and associated themselves with local plastic bank organizations.
SC Johnson lance régulièrement de nouveaux produits sur le marché dans le but d'attirer de nouveaux clients. Le dernier né de chez
Canard WC est une ligne de gels hygiéniques fait de bouteilles composées à 50% de plastiques océaniques recyclés et d'une formule plus écologique. Grignotant des parts de marché en se positionnant ainsi de façon plus "verte", cette ligne était aussi une réponse de la marque suite à la nécessité croissante de lutter contre le changement climatique. Ma campagne "Give a Quack" utilise les codes des militants
pro-planète et se veut provocante et bruyante, encourageant les gens à passer à l'action et à s'associer aux organisations locales de collecte de plastique.

Role:
 Art Direction & Production.